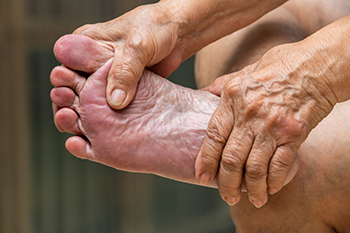 By the time you reach the age of 50, experts say that you will have walked around 75,000 miles. As a result, the general wear and tear on the feet becomes more apparent. Fat pads, skin, and bones get thinner. Feet that have been pushed into tight shoes for years become deformed. Tendons and ligaments lose strength and fail to rebound as quickly. Arches are apt to fall, causing flat feet that can result in longer feet and toes. But many older people continue to wear or buy the same shoe size. Osteoarthritis often sets in, causing inflammation in any number of the foot's 33 joints. Older people with chronic conditions, such as diabetes, may develop neuropathy and peripheral artery disease, both of which can cause other serious foot problems. All that said, there are ways to lessen the effects of aging on your feet. Consider custom orthotics to counteract the natural decline in foot efficiency. Be on the lookout for sores that do not heal properly. Stretch or do mild exercises to promote circulatory health. Wear shoes that fit properly and offer ample support and cushioning. Pay attention to unusual or new foot pain. Finally, it is wise to consult a podiatrist for regular exams. 
If you need your feet checked, contact one of our podiatrists of Parkwood Podiatry. Our doctors will attend to all of your foot and ankle needs and provide you with quality treatment.
Geriatrics and Podiatry
When people age, some common issues that may occur are bone density loss, dry skin, poor circulation, and rough brittle nails. These issues may also affect your foot health if the necessary steps are not taken to alleviate the problems.

It is important to take care of your feet because feet that are injured or diseased can affect your overall health. Having painful feet hinders your ability to do daily activities or may decrease your willingness to do the things that you need to do.
Visiting Your Geriatrician
As we age, health problems become more likely, so it is essential to visit your doctor for check-ups to ensure that you are doing the best you can to take care of your health. It is recommended to check your feet frequently for any possible cuts, bruises, swelling, corns or any other irregularities. 
Taking Care of Elderly Feet
Cracked or dry feet can be treated by applying moisturizer often. It is also important not to wear old socks because the older the sock is, the higher the possibility there will be that there is bacteria there. Wear fresh socks and make sure they fit properly.

Proper foot health means that you can have a more active lifestyle and you will not be bogged down by pain. Foot health also leads to good circulation, which is paramount for overall health.
If you have any questions, please feel free to contact our offices located in Brunswick and Hinesville, GA . We offer the newest diagnostic tools and technology to treat your foot and ankle needs.
Read more about Geriatrics and Podiatry